If you have email hosting with WebsiteExpress, then you can take advantage of our secure email hosting services for your Microsoft Outlook 2016 program. A secure email account will give you an encrypted connection to and from the server so that your password and data is secured during transmission over the internet. This will prevent anyone who may be monitoring your internet connection from viewing your email account details. This is especially useful on public wifi connections such as what you would find at a coffee shop or a hotel. Please follow the instructions below to set up a secure WebsiteExpress email account for your domain name in Microsoft Outlook 2016.

Here are the settings to quickly set up Outlook 2016.

Encryption Type: SSL
Incoming IMAP Port: 993
Incoming POP3 Port: 995
Incoming Server: mail.WebsiteExpress.net
Outgoing SMTP Port: 465
Outgoing Server: mail.WebsiteExpress.net

You can also follow the in depth image tutorial below.
---
Click on the File tab and click Add Account.



---
Now click on Manual Setup and click Next.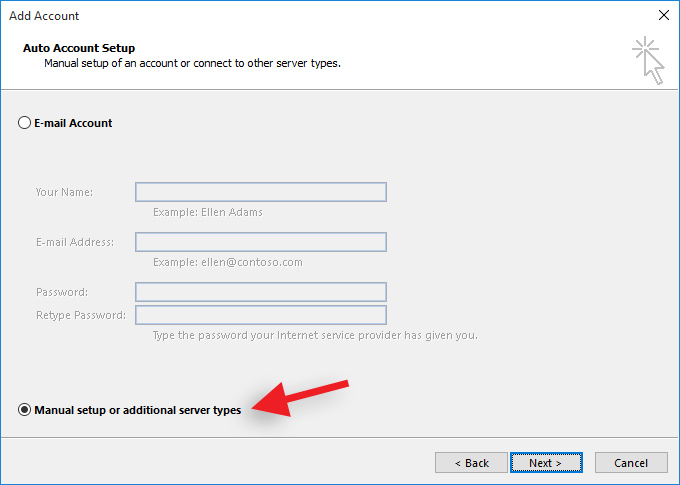 ---
Choose POP or IMAP and click Next.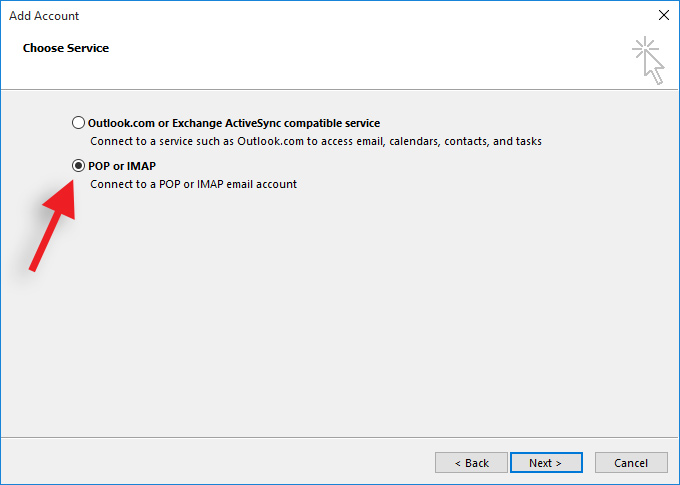 ---
Fill in the E-mail account information.
Enter your name (this is your display name on all outgoing emails)
Enter your email address
Select your account type (IMAP is recommended but POP3 is fine too)
Your incoming mail server host is mail.WebsiteExpress.net
Your outgoing mail server host is mail.WebsiteExpress.net
Enter your Logon Information (You will find your email address and password on the account setup email that you received from Website Express for your domain name)
User Name is your full email address
Enter Password
Click More Settings after you have entered in all the account details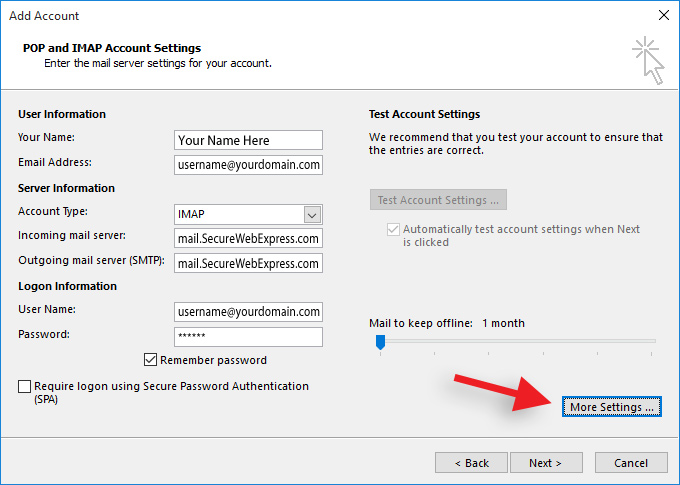 ---
Select the Outgoing Server tab and check mark my outgoing server requires authentication.
Use same settings as my incoming server.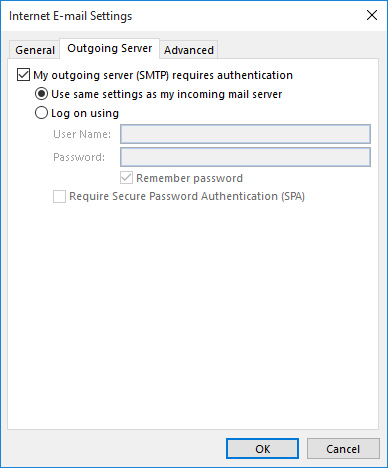 ---
Select the Advanced tab and fill in the Port Numbers and Encryption Type.
Incoming Server (IMAP): 993
Use the following type of encrypted connection: SSL
or
Incoming Server (POP3): 995
Check mark the box: This server requires an encryped connection (SSL)

Outgoing server (SMTP): 465
Use the following type of encrypted connection: SSL
Click OK when done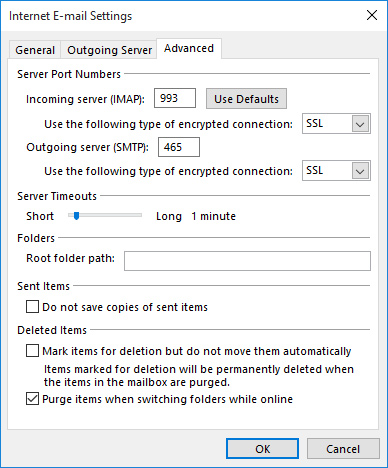 ---
Click Next in Account Settings.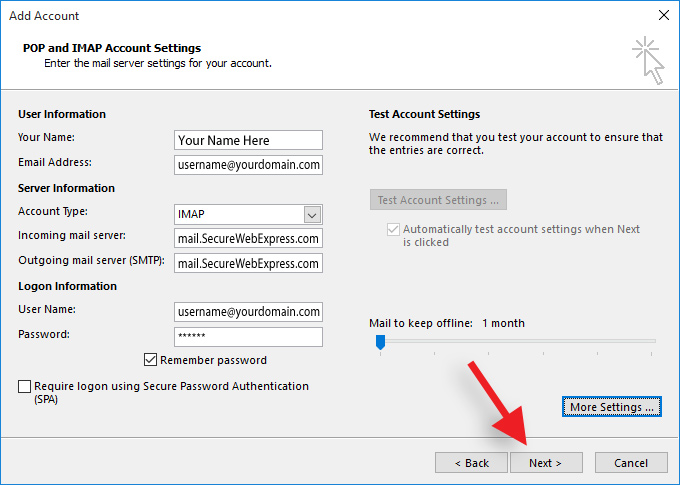 ---
Incoming and Outgoing tests should complete sucessfully.
If you receive any errors then please go back and check for typos in the username, passwords host names, port numbers, and encryption types.
Click Close when done.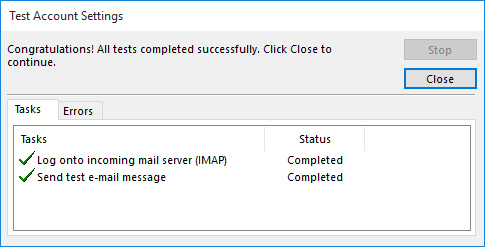 ---
You are all done! You can now send and receive email through your Outlook 2016 email client.
Thank you for choosing secure email hosting from WebsiteExpress.com! Please let us know if you have any questions.